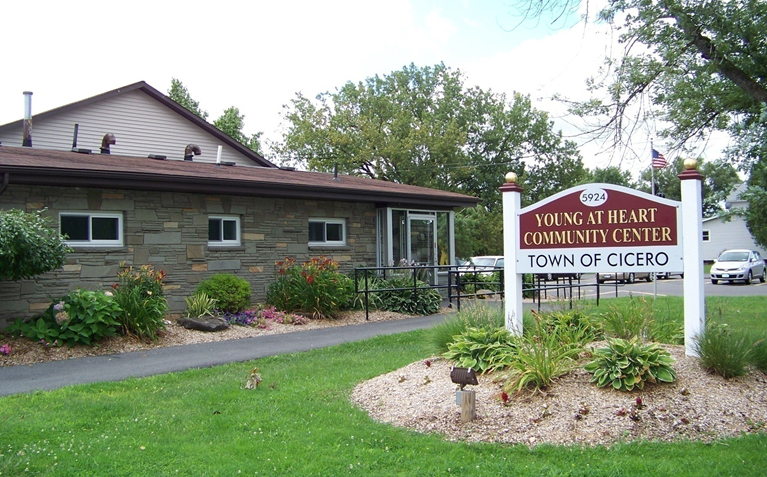 Location:
5924 Lathrop Drive, Cicero, NY 13039
Phone: 315-452-3298
Hours:
Monday through

Friday 10:00 am - 4:00 pm
The Town of Cicero Senior Center, formerly known as the "Young At Heart" Community Center, offers an abundance of activities which include social events, trips, exercise classes, bingo, lunches, crafts, cards, pool and much more!
If you are 55 years of age or older and enjoy meeting friendly people who like to have a good time, you qualify!
Newsletter
T
h
e
newsletter is published four times a year and is filled with special events, programs and information pertinent to our senior population. If you would like to receive the newsletter, please click on the link below to download the newsletter. To be added to the mailing list, contact the center 315-452-3298.
2023 October, November, December Newsletter
PEACE Luncheon
(People's Equal Action and Community Effort, Inc.)
Every Monday, Tuesday, and Friday, you are offered a well balanced hot meal for a suggested donation of $3.50. Pre-registration is necessary, space is limited. Meals are offered at noon. Please call for more information.
Trips
We try to offer several local trips a month with our Cicero Express Bus for a low fee. Trips are posted in our quarterly newsletter. Early registration and payment is necessary to ensure the success of the trip and your spot on the bus. See the most recent newsletter for information on our current trips.
Our award winning fitness program includes low impact aerobics 2 times a week. It is geared towards all levels of participation, including some chair exercises. Classes are held on Monday and Thursday from 9:00 am until 10:00 am. We also have an outstanding yoga class offered once a week on Tuesdays from 9:00 am until 10:00 am. Call the Center for fee information.
Senior Transportation
Need a ride to the Center? Then call the Cicero Express! Any Town of Cicero senior without means of transportation will have an opportunity to come to the center on Mondays or Fridays for a nominal fee. Call the Center for a schedule of dates, times and fee information.
Steering Committee
The Steering Committee meets monthly to keep our Center running smoothly. If you have any ideas, suggestions, or concerns, why not attend our next meeting? They meet the third Tuesday each month at 10:30 am.
Cards and Games
Do you like to play cards? We meet regularly to play pitch, pinochle, bunco and bridge. Also available is tile games of dominos and mahjong weekly and team trivia. Call the Center for specific days and times.
Bingo
Come join your friends for a fun game of Bingo. Bingo is held on Fridays at 1:00 pm. Cards are fifty cents each and you can purchase up to four cards. Come in and have fun! Everyone is welcome.
Forever Young Club
The Forever Young Club is a group of fun loving ladies that meet monthly for celebrations, trips, special luncheons, etc. There is an additional annual fee to join this group.
Billiards
Two pool tables are available daily from 10:00 am - 4:00 pm. Bring your own que, or use one of ours

.
Health and Wellness
Health fairs or speakers are scheduled periodically.
Bocce Courts
Two Bocce Courts were built by local Eagle Scout (Keith Holmes, of Troop 117). If you like to play Bocce, call the center for times.