Announcements & News
COVID Park Use
The Town of Cicero Parks & Recreation Department will be opening Playgrounds and Pavilions beginning Saturday, June 27th. Adults should wear face coverings if the 6' social distancing cannot be maintained. Pavilions can be rented for groups of up to 50 individuals.
Youth organizations will begin Youth Sports within the Low and Moderate Risk Categories as per NYSDOH guidelines with League COVID Protocols being followed. Sports that fall under the High Risk Category are limited to no/low contact group training such as drills and clinics.
William Park Swimming
Please note that we are not offering swimming at William Park this summer. There are no lifeguards on duty. Swimming is strictly prohibited. Our Park Attendants are there to enforce the rules for the safety of all. Please visit Oneida Shores or Green Lakes for recreational swimming. For details regarding County Parks please visit
https://www.onondagacountyparks.com/
Summer Programs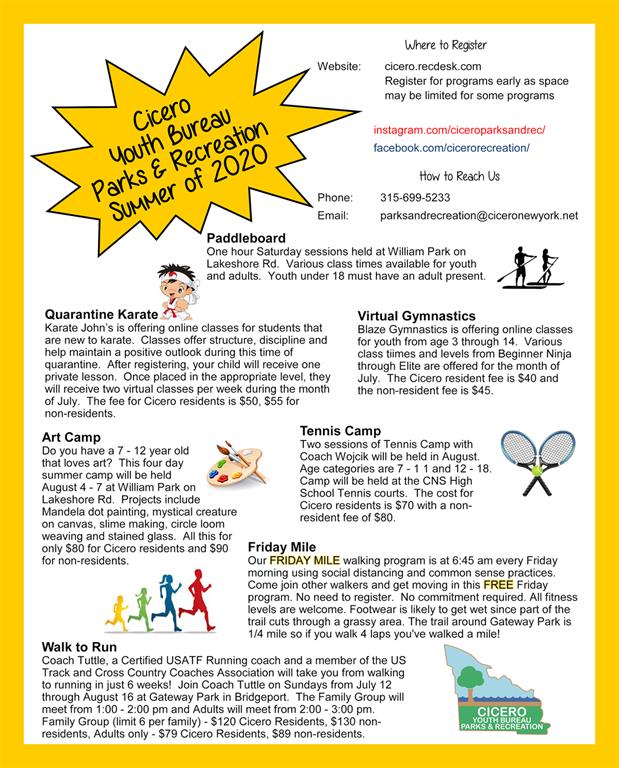 SUP (STANDUP PADDLEBOARD)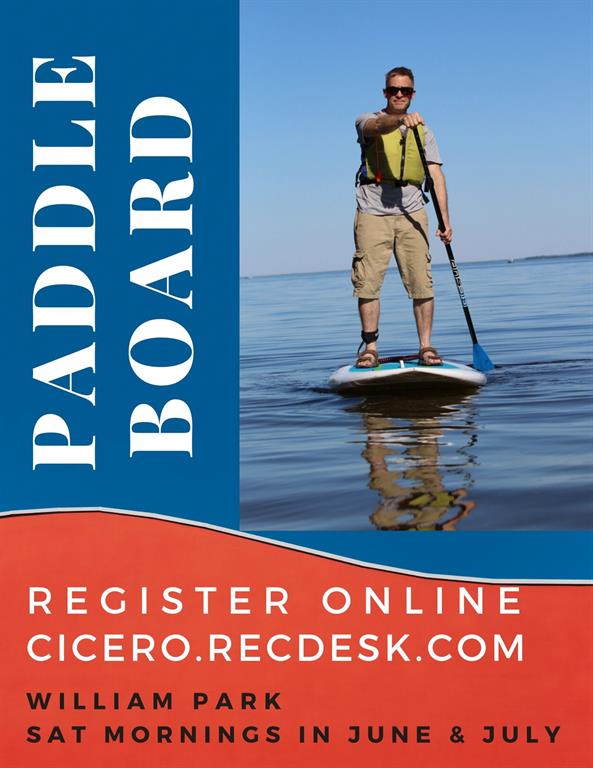 Share Your Talent!
Share Your Talent!
The Town of Cicero is always looking for new and innovative talent. If you possess a skill and the ability to lead an activity, art or sport, please contact the Recreation Department at 315- 752-1180 x 347 to discuss your idea!
Program Registration
Online Registration

Create an account for your family by clicking "Log-In" on the right hand side of the menu bar, then follow prompts. Once you create an account click the "Program/Events" link on the top menu bar and click "Registration". From There you can browse the current program offerings.
Register in person or by mail
Registration forms can be found under the "Forms" link on the top menu bar. Cash, check, money orders, and credit cards are all acceptable methods of payment when registering in person or through the mail. Please make check out to the Town of Cicero. Registration forms can be mailed to: Cicero Parks & Rec, 8236 Brewerton Rd, Cicero, NY 13039
Credit Card Payments
Processing fees will be added at checkout when payment is made with a credit card. These fees CANNOT be refunded, even in the instance of a program being cancelled. To avoid credit card fees, payment can be made with cash, check, or money order.
2019 Summer Program video - Monday, August 26, 2019